Bert Abbey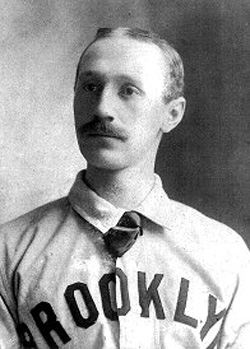 Baseball has often been referred to as the thinking man's game. Like chess, baseball is said to be a game of strategy and percentages.
However,
Bert Wood Abbey
, the first college graduate to play major league baseball, likely would have disagreed with this notion. Abbey once stated, "Baseball's okay in college, but no place for a man with a brain!"[1]
Abbey was born on November 29, 1869, in Essex, Vermont, a little town located between the majestic Green Mountains and Lake Champlain--the sixth largest body of freshwater in the United States.[2] Although Abbey did not play baseball as a child, he did play the game at the collegiate level for the University of Vermont.[3]
After graduating from college in 1891, Abbey signed a professional baseball contract with the Washington Senators. He made his big league debut on June 14, 1892, and finished the season with an abysmal 5-18 record even though he had a respectable earned run average of 3.45. His .217 winning percentage was the second worst in the league.
Abbey was then sold to Cap Anson's Chicago Colts, but despite a change of scenery he continued his losing ways. In a little over two seasons pitching in the "Windy City," Abbey won just four out of 16 decisions.
Shortly after the start of the 1895 season, Abbey was sold to the Brooklyn Bridegrooms, for whom he would win five of seven decisions in 1895 and split the final 16 decisions of his big league career in 1896.
Abbey died on June 11, 1962 at the age of 92 in Essex Junction, Vermont. He was elected to the University of Vermont Hall of Fame posthumously in 1969.[4]
--------------------
[1] -----, University of Vermont: Hall of Fame Inductees, Brief Bios: Bert W. Abbey 1969. http://uvm.edu
[2] -----. Town of Essex, Vermont. http://www.essex.org
[3] -----, University of Vermont: Hall of Fame Inductees, Brief Bios: Bert W. Abbey 1969. http://uvm.edu
[4] -----, University of Vermont: Hall of Fame Inductees, Brief Bios: Bert W. Abbey 1969. http://uvm.edu